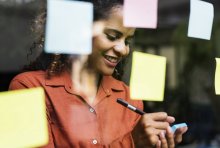 Venturing out on your own can be a daunting task. Your nine to five brings with it a certain security net, however, the only way to achieve your dream is to take the leap and become your own boss!
In order to make sure that you are successful in this endeavour, though, it is important that you find the option that is right for you. Because, despite what you may think, there is more than one way to become a successful entrepreneur.
Below, we take a look at some of the simplest ways and give you tips on how to make sure that your journey to entrepreneurship is a positive one.
1.    Start a business from scratch
This is what most people will think of when they think about becoming an entrepreneur. There are a lot of risks involved in starting a business from a scratch, however, if you have an idea that you have confidence in and you are willing to put in the work, this is probably the best option for you.
The most difficult choice to make will be when to hand in your notice and throw yourself fully behind your idea. Many entrepreneurs try to keep their day job as long as possible in the beginning stages of their business so that they have a salary while they get their business off the ground.
You need to be realistic about your financial situation. How much will you need to start your own business and how long before you are realistically able to pay yourself a salary?
2.    Buy a business
Buying a business is another way to go about setting out on your own and being your own boss. The advantage of this is that you can see if the business has a proven track record.
This is very handy when you go to the bank to ask them for a loan. Proven financials will give far more of a chance of getting the money that you need to purchase the business.
For example, if you are looking to buy a pub, buying an existing one will come with an already established customer base and supplier relationships. You will just need to choose the right one to buy.
3.    Find a partner
Going into business can be made a lot easier if you're able to find the right person to partner up with. Having a partner can double your resources in terms of skills and capital!
It is, however, vital that you find the right person to partner up with. The wrong partnership can turn sour so spend time making sure that you have the same goals and ideals.
4.    Find investors
The financial pressure of starting a business can be the single biggest reason to stop you sacking your boss. There are, however, a lot of financing options that are not necessarily the traditional routes of looking to banks for loans.
Why not look to angel investors to help you get your business going? If you have the right idea and you are willing to put in the time, there may be the right investor out there who will believe in your vision.
If you are able to carefully chose the right path to becoming your boss, there is every possibility that you can enjoy the process. Every future boss must find the option that is right for them and their circumstances. If you are able to do this, you'll be on your way to success!
By Matthew Hernon: Account Manager at Dynamis looking after Business Transfer Agents and Franchises across BusinessesForSale.com and FranchiseSales.com