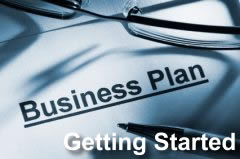 Firstly do you need a business plan? Many small businesses have never had a formal business plan.
Think of your corner store, or the self-employed tradesman that came to fix your heating, they almost certainly don't have a written business plan. But then again they probably aren't thinking of growing very much either.
If you do want to ensure that your business will thrive, or you want a bank loan, or investment, then you've got to get a business plan written out.
Why? Well it's not until you have to think clearly enough about your business that you can succinctly write down its aims and how you are going to achieve them that you can put the actions in place to ensure it will be a success.
Usually there are two basic reasons for writing a plan; you want a plan to enable you to run your business, or to show a source of funding the information about your business that they will insist upon before putting any money into the company.
The look of the plan and what is included in it will vary on the use that you put it to. If it is mainly just for you and your staff to run the business, you'll not need all the background and management bios that you'll need for an Investor.
How long will it take to write a business plan? That depends on whether you have all the information to hand and how diligent you are at working on it. We're not all gifted writers, but it doesn't have to be a work of art, it's more important that it covers the essentials, has a good flow and if looking for funds, NO typos. If spelling isn't your thing, get it checked. There's nothing more off-putting to a potential Investor than a sloppy document. Generally writing a plan can take from a few weeks to a few months.
There's a logical process to writing a plan but when working through it if you get stuck at one point, do your best and move on. You can always come back to it later and it's more important to keep enthusiasm and momentum going.
So now looking at the first steps. There is a bit of pre-writing planning and thinking to be done. Sit back from what you are doing and think what your personal goals are. Do you want to create a business that will provide you with a steady income, or are you pushing to become a multinational corporation? Are you readying your business for being sold, or have an invention that you want to be successful?
Then decide the businesses goals that will support you  accomplishing your personal objectives. You can start to think about what your businesses aims and ambitions are – often called "The Mission Statement".
Considering your businesses goals, what strategies can you think of that will help you to achieve them.   For instance if one of your goals is to start-up a new business that will rapidly grow to be country wide, you'll need strategies around product or service development, marketing and publicity and how you will price and differentiate yourself compared to competitors.
Jot all of these thoughts down in a simple bullet point or note form, for reference later when you come to actually write the business plan. It sounds obvious, but keep them organised under your own headings so you can easily find these moments of inspiration again.
You have roughly laid out your goals and strategies, that's good, now what specifically will you need to do to make these strategies work? You don't at this stage need a comprehensive list of actions and so you shouldn't feel daunted by the effort of having to decide everything now.
But start noting down the things you'll need to do to make each of your strategies work. Think also what resources you'll need to make these work, for example; staff, funds or special expertise?
The final part of this pre-plan stage is to begin to get a feel for what other information you are likely to need to hand when writing the plan. If the business plan is for investment purposes you'll need the history of the company, or for a start-up the background to why it is being started. Get staff or management bios ready if appropriate.
Gather your facts about the market and your competition. Make a note of where you get any market facts so that you can reference this in the plan. Think through carefully who your target market is, you will want to include a section on how you split up your market into sub-sections (called market segmentation).
Now with most of your goals, strategies and facts to hand you are ready to begin work on writing your business plan.
Next week… The business plan structure