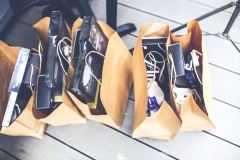 So you've made the decision to launch an ecommerce business? Congratulations – you've chosen a great path for your new business.
But like every new venture, if you want to give yourself the greatest chance of success, you're going to need a solid plan. Everything from the style and tone of your content, to your web design and even the products you sell will need to be carefully considered and worked into an overarching business strategy.
This might sound daunting, but if you know what you want to accomplish, then the planning phase will probably be easier than you expect. Nevertheless, let's take a look at the first five steps towards launching a successful online store, so you can be sure to get your ecommerce business off to a positive start.
Don't forget to also read these top start-up tips to help propel you into business success in 2018.
1. Find That Niche
You may already have a product or service in mind for your ecommerce business. However, with so many online stores vying for the top spot in search results, you need to choose your niche carefully. To do this, you will need to find something that your business can excel at, and that sets it apart from the competition.
The trick to this is to find something for which there is demand, but not too much competition. A good place to start your search is Google Keyword Planner, as this will enable you to see how popular a particular search is, as well as the potential competition for that keyword or phrase.
Search isn't the only place to look though – mine for data on forums like reddit and Quora, and scour social media for relevant posts and updates.
Once you have figured out your niche, you're ready to construct the rest of your marketing strategy. Remember, having a niche does not mean you can't sell or promote anything else; it simply serves as the focus for your business, and the main draw for your customers.
2. Set Your Budget
Having a clearly-defined budget is essential if you want the launch of your ecommerce store to go smoothly.
● List your confirmed funding sources, and reach out to potential investors. Don't rely on any funding source that isn't definite.
● Plan for setbacks. Figure out the cost of remedying potential problems, and budget accordingly. Tying up a portion of your capital in a recovery plan is far better than falling short in an emergency.
● Take calculated risks. No business venture is a guaranteed success. However, you can greatly increase the security of your investments by weighing up the risks against the likely ROI.
● Don't cut corners. Careful budgeting means you can make savings and spend more efficiently as a result of planning and forethought. But remember that a greater initial outlay can sometimes mean lower long-term costs. Always consider your future costs when weighing up a purchase. Is it scalable? Is it future-proof? How much will it cost to maintain?
Knowing exactly what you have to work with is extremely useful when constructing your business plan and content schedule. Even matters such as selecting your ecommerce platform are heavily dependent on your budget, as different platforms and packages come with varying costs.
Keep in mind that your budget can always be adjusted if you secure additional funding. However, it is far better to base your plan on funds that you have confirmed, than to have to start from scratch if a planned source falls through.
3. Scope Out the Competition
Now you have the bare bones of your business, you need to bring yourself up to speed with the competition. Visit their websites, explore their target keywords, and consider signing up to their mailing lists.
These insights will help you to understand the sort of things customers in your industry have available to them. This enables you to create something that is new and different, while still catering to the same needs. It is important not to copy your competitors, as not only will you fail to stand out, but you will also have a much harder time ranking in searches.
While checking out your competitors, you may even find some that you could collaborate with. Perhaps you fall within the same industry, but are targeting different, yet complementary niches. This could be a great opportunity for guest posting in their blogs, or setting up a mutually beneficial partnership.
Another way to scope out the competition is to find similar websites that are listed for sale and delve into their sales figures and results. It will give you a good idea of what's been working (and not working) for other retailers, and may alert you to a niche that's become oversaturated. You may even find the perfect store and domain name already built – ready for a savvy buyer like you to snap up!
4. Design For Your Audience
Once you know who your audience is, you can decide on your marketing message, the aesthetic of your store, and even the social channels you will focus on. While it is important that your brand's image reflects your aspirations for your business, it is also essential that you keep the needs of your audience in mind at all times.
Of course, it can be hard to define exactly what your audience will like the most, so this step can include quite a bit of trial and error. Split-testing is particularly helpful here, as it enables you to make complex design decisions, while gaining an insight into the preferences of your customers. This can be used for everything from your landing pages, to ads on social media, or even targeted promotions.
Depending on your chosen platform for your store, you may have access to a range of analytical insights based on the interactions of your customers with your website. This data will be invaluable for the growth and evolution of your business, as you will be able to identify the strengths and weaknesses in your marketing strategy, and optimise your approach accordingly.
5. Plan Your Website
The final stage of setting up your ecommerce store will be creating the store itself. A great option for many budding entrepreneurs is to use an ecommerce CMS. Platforms such as Magento, Shopify, and WooCommerce offer a range of functionalities, and varying levels of customisation.
You should base your choice on your budget, as well as your specific aspirations for your business. Shopify, for example, has an app store with over 1000 applications to choose from to help you customise your store. Others, such as Symphony Commerce offer pay-as-you-go pricing structures, which can be fantastic for a fast-growing business with limited startup capital.
Before settling on a platform, make sure it has all the features you require, and that you are comfortable working with it. Don't be afraid to contact support services for your preferred platforms if you have in-depth questions about their functionality. It is far better to make an informed decision than simply hope for the best.
Of course, you do not have to rely on any of these platforms. If you are a confident web designer, or you have a team in place to handle this for you, then the greatest flexibility can come from setting up your store from scratch. Keep in mind that there are important features that you will need to include, such as a secure payment system, and a legally compliant means of collecting and processing customer data.
Once you've achieved all that, you're well on your way to ecommerce success. Of course, the work has only just begun, so don't relax just yet. To ensure that you maintain this success, and give your business the opportunity to grow, you will need to keep improving on your work so far.
Start with your onsite analytics, to gain insights into how well your content performs, and how your customers interact with your website. From this you can learn which products are your most popular, and which might need a little more promotion. You can also see who makes up your audience, which will ultimately help you to make better decisions about future marketing campaigns.
The more you learn about your customers, the better you can cater to their needs. And, of course, happy customers are more likely to buy more, recommend your store to others, and come back to make purchases in the future.

Victoria Greene is a branding consultant and freelance writer. On her blog, VictoriaEcommerce, she shares tips on ecommerce and how entrepreneurs can develop their businesses. She is passionate about using her experience to help fellow entrepreneurs do better.