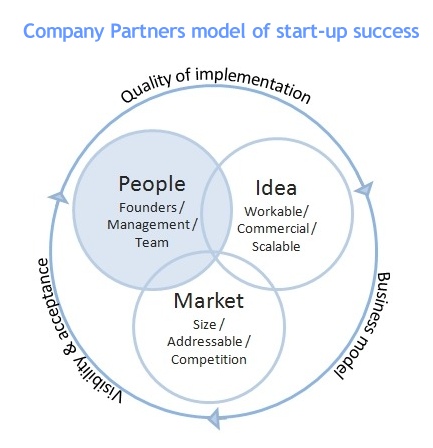 Every experienced Investor develops a sixth sense when looking at potential business opportunities, but even so it can sometimes be difficult to put your finger on what is the key ingredient in making a new venture successful.
Over the years of working with start-ups I've seen companies grow rapidly and then fall away, great businesses that not only grew but sustained their position and of course those that never made it.
In all of the great ventures they got 3 basic elements right and I've tried to show those essentials on our model of Start-up Success above.
Much of it is common sense, but like many simple things it can often be forgotten and the whole process of identifying a good high growth business made over complicated.
Firstly, yes you guessed it, is the founders of the venture. It's said many times that the management team is key, but why? It is because they provide the drive, ambition and ultimate quality of the business.
Not only must they have the will to succeed but also the competence to implement the business successfully. The idea is important, but the excellence of implementation of the idea is critical.
Great entrepreneurs have a vision of what they want to achieve based on an insight to a market opportunity and the capability to pull together the resources to address it.
When you as an Investor look at prospects, or perhaps if you are an entrepreneur thinking through options for starting a business, it's worth remembering the 3 key ingredients and how they interact for sustainable success.