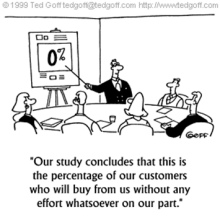 Whether you're writing a business plan, or simply want to make sure that your business has customers, you are going to need a sales plan and a marketing plan.
Yes need. Not optional, not nice to have – need.
First let's get over the instinctive dread of the word plan. It doesn't have to mean a formal document, but it does need to be written down. Writing forces you to think and you can't get away with the woolly thoughts that are there when this is only in your head.
Notice also that I separated the two. People use the phrase sales & marketing, but they are two complementary areas of your business activity. You can write them separately or joined together in one overall plan.
When I talk to entrepreneurs they can chat for hours about the features of their product, but ask how they will sell it, or how people will find out about it and a there is a vague response of "oh that's what I need money for, to advertise and stuff".
It's far more interesting to think about the product or service than about the practicalities of how you will sell them. Until the business fails because you don't have customers. Or you don't attract investment.
So what is in a sales and a marketing plan? Which do you do first?
Start with the marketing plan, because part of that is defining who and where your target market is. You'll need to know that in order to sell to them. I wrote an article about this: How-to-Market-Smarter
The contents and emphasis will vary depending on the type of business, it's complexity and of course the market it operates in, but in general a marketing plan will have:
A description of the market you are operating within, think about the geography and demographics. You can include how the economy affects this market. A cut-rate supermarket does better in a difficult economy for instance.
Who are your competitors, their pros and cons. What is your strategy for competing against them?
Who you are selling to, your ideal customer. As mentioned in my article above, it should be broken down into segments.
Branding, values, colours, logo – the message you want to communicate. Cheap and functional or premium and exclusive, this is where you decide what people think when they hear your company's name.
Products and services with pricing strategy – no need here to go into depth on every product functionality. Rather the strategy of what type of products and services.
Lead generation – this includes PR, advertising, web sites, referrals, direct mail, attending exhibitions, giving local talks, networking…  Be specific, don't just say for instance you will advertise, give a list of publications and the dates you'll appear.
Marketing costs – put together a spreadsheet showing the costs of each of these marketing activities.
Once the marketing activity is generating leads, how will you turn those into sales? This is the sales plan.
Sales strategy – do you have your own sales force, will you have distributors, is your business web based only or perhaps a high street shop.
Sales process – how do you qualify the leads generated, how do you engage with them, key sales messages,
Service experience – how will you later follow them up, retaining customers and encouraging them to buy again.
 Sales forecast – compile a spreadsheet by month for the year (plus a year 2 and year 3 total if doing a business plan for investment). Broken down by product or service category.   Sometimes it's hard to forecast for a new business but you must make a stab. Note down your assumptions of why you forecast those numbers, so when it proves wrong you know why and can adjust it.
It takes time and we are all busy, but there is no alternative, you can't run a successful business without a sales plan or a marketing plan.