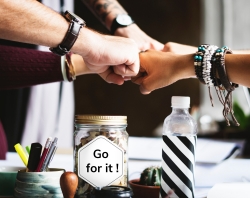 Let's face it there are a lot of attractions to having a regular salary, perhaps expenses paid and some security. So why would anyone venture out on their own?
Yet every year thousands of people do exactly that.
Having previously been in large corporations myself for over 20 years I can sympathise with those that dream of controlling their own destiny but can't put aside the golden chains. I eventually decided the benefits outweighed the risk and only regret not doing so earlier.
Certainly it is easier to take chances when younger and with fewer responsibilities, but with planning anyone can start a business at any age.
Now I'm not advocating that you short change your existing employer by using their time, however in your own time there are things you should do before making the plunge:
Firstly don't quit too soon and for the wrong reasons. You have cash coming in and can do a lot of pre-start-up work before losing that income. You may have to put up with a bad boss, or uninteresting work while getting the business you want ready.
Put your business plan in place for your new business while still working for the company. I know it may be more enticing to just go and get started, but you can make the chances of it being a success by doing this now while someone else is paying you.
Check and double-check that the market and sales are going to be there for your start-up. Just because you have a great idea doesn't mean that it is a "commercial" business that will pay its way and deliver a profit. Do your market research see… How to do a sales plan
Work out true costs and likely sales, don't fool yourself with vague and woolly imaginings of how it will all come good somehow.
Start making the contacts that you will need (suppliers, manufacturers, staff, potential customers). Clearly you will need to be sensible about this; word getting back to your present employer would not be helpful.
If it is a business that does not compete with your existing employer, you may well be able to test its viability, learn what works and get initial sales that you would be able to build on, while still in employment. Working in the evenings, week-ends and on your time off is not easy but will help prove the concept and give you a rolling start.
Think about your cash flow. Have you got enough resources to see you through the initial build-up of business, or have you identified immediate contracts / customers that will pay in a timely manner to cover your outgoings.
Lastly, if you have done all of that, thought it through and are ready, do it!
Many dream – few do.
See…Why Businesses don't get Started