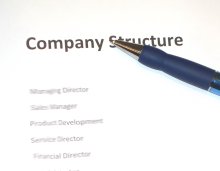 Many of the people that I've talked to recently are individuals, they have a need for funding to start-up or to get greater growth, so they are talking to me about finding investment.
After asking about what they have done to prove the concept and reduce the risk to an Investor, the next thing that I ask about is who is behind the business.
From an Investor's viewpoint they will want to see that whoever is involved has the capability and experience to make a success of the investment, they don't necessarily have to have a comprehensive and large team behind them.
It some cases the Investor may in fact want to become active in the business and so will be looking to see where they can add value. If for example the Investor has a financial background, a business where the owner is an expert in the market and product, but could benefit from additional business skills would be an attractive fit.
There are Investors though, who whilst willing to contribute experience and contacts would not want to be involved in the day-to-day activity. They ideally would like to see all the bases covered by a solid team of experienced and talented people with a strong commitment to success.
By "bases" we are talking about Product/Service development, Sales & Marketing, and Administration/Finance.
So if you as the owner of the business have one of those areas covered, you should be looking to have brought in partners or employees to cover the rest.
There has also been a trend in recent years for fast-growth businesses to bring high profile Chairman into the company. These figureheads add credibility to the venture, help with their advice and will be experienced in talking to people such as Investors.
Even at a more modest business level bringing senior people in as Non-Execs to add authority and experience can be positive to Investors. It reassures them that the business has the talent to grow with some help, but not requiring a lot of their limited time.
That may of course be less attractive if the Investor has ambitions to be an active part of the team themselves, so consider what your potential Investor's preferred role may be and that could shape how you present your team.
Having said this about building a team for investment, if the business is one that looks destined for high-growth, Investors will bring in specialists and experienced people to fill any gaps. But for the majority of businesses a little thought on shaping the management team will give credibility to an investment proposal.