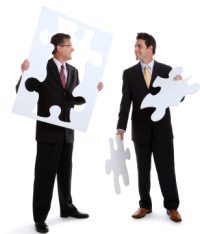 Having a Business Partner can be a great benefit. They bring additional skills and resources, you also have someone to bounce ideas off and to share the stress & risk.
But in some cases the partnership can go wrong. Occasionally it is because there was not enough due-diligence in checking the background of the potential partner. Simple Companies House checks will reveal past company directorships and you can ask for references.
However most times where a business partnership ends it is because the partners no longer get along. This can result from incompatible personalities, differences in the direction that the business should be taking, or conflicting work styles. In many cases this can be avoided by:
At the beginning of a partnership you should establish that you share the same vision for the business.
Talk about how you and your partners wish to work on the business. Is the way of working compatible? Can you foresee any issues; for example one partner may be happy working late, whereas the other may prefer to finish at regular times. Resentment or guilt can build up from such differences.
Have clearly defined individual responsibilities. Ideally fitting complementary skills.
Ensure that the partners have common values and ethics.
Maintain respect for each other and trust that each is doing their best for the business.
Communicate. Lack of communication can generate misunderstanding, relationship difficulties and concern. Rarely is it possible to over-communicate.
Don't let the pressures of running day to day operations prevent talking regularly to your partners, not just on immediate activity. Take time each month to review progress against targets and discuss how each is doing, checking if support is needed by one partner. Is the vision and direction still being maintained and shared?
Finally build trust with each other by doing what you say you will do. If you can't for some reason, let your partner know ahead of the deadline.