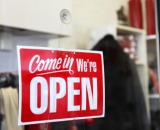 During the latest recession as skilled or senior professional people suffered redundancy, many decided to start their own businesses. Some escapees from the crash of the City actually became Investors into young businesses.
With the huge cuts to public spending now being implemented there will undoubtedly not only be direct job losses, but with contracts being cancelled and bought-in consultancy slashed, there will be massive collateral damage to the private sector as well.
This could be an opportunity to help some of the affected become self-sufficient and start their own businesses. Where else will they find a new job with the mayhem that is about to hit the jobs market?
There will be a wonderful pool of talented yet frustrated ex-employees that will be keen to make a new life of self-employment rather than face the despair of applying fruitlessly for a dwindling supply of suitable jobs. Surely now is the perfect time to help them achieve this.
However, the announced cuts already talk about reducing the regional development funds and I can't see any attention being given to helping start-ups or growing businesses.
I think the new government is missing a huge trick here. This is the perfect opportunity to provide a focus on young businesses. Producing a programme that encourages entrepreneurs to grow their own companies and in turn delivering growth to the UK.