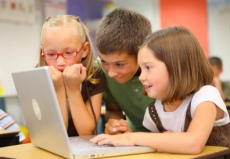 I must admit this blog sounds a bit as though I'm standing on a soap-box, but a recent comment by Google's chairman, Eric Schmidt, rang true with me. He said:
"I was flabbergasted to learn that today computer science isn't even taught as standard in UK schools," he said. "Your IT curriculum focuses on teaching how to use software, but gives no insight into how it's made."
Yes I thought, he's right. We teach how to use software, not how to make it.
This made me think, would teaching Information Technology as standard make a difference to our ability to innovate in a high-tech world?
Innovation has always driven the economy. Just look back to the Industrial Revolution and the inventions that abounded, they were that time's high-tech.
Today's innovation tends to centre on software, electronics and biotech, all of which require not just a grasp, but actually a fairly good understanding of the principals behind these technologies. The sort of understanding that can then be used to develop new innovative businesses.
However, schools have increasingly concentrated on "soft" subjects and reduced the time spent on what is thought to be more difficult areas such as science, maths & technology.
I know that we are short of science and maths teachers and the need to meet higher and higher pass rates every year means that schools concentrate on courses that are not as exacting.
It doesn't have to be this way; though it will require government willpower to change.
We've seen an enthusiasm for entrepreneurial activity, with programmes like Dragon's Den and The Apprentice. Nearly all young people have a passion for the uses of technology, with Facebook and iPhone Apps.
So why not put a fresh emphasis on learning why an iPhone works and how to programme an application like Facebook, not just how to use them. Then we may be producing the future innovative entrepreneurs that the economy demands.