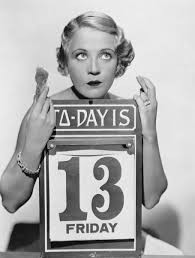 Given that today is Friday the 13th I thought it interesting to look at the role luck plays in business success.
Firstly it would be wrong to say that luck, or being in the right place at the right time is non-existent – it does happen.  Think of those who bought property in places like London some time ago, never thinking that prices would sky-rocket.
Perhaps simply the luck of meeting just the partner, Investor or contact that you need at absolutely the right time for your fledgling business.
Even starting a new business whilst unbeknownst to you, significant market and trend changes mean that it suddenly becomes a roaring success
However, as the writer Nesta Jojoe Erskine has said, "You don't get lucky while sitting in the sofa with arms crossed doing nothing. You can be lucky only when you are prepared."
There is strong evidence that the more you put yourself "out there", make as many contacts as you can and take positive action, the greater the likelihood of having luck find you.
I recently was reminded of the famous quote by Jack Nicklaus, "The more I practice, the luckier I get", and the similar "The harder I work, the luckier I get" by Samuel Goldwyn.
Yes sometimes fortune smiles unexpectedly, but most successful people have not sat around waiting for that to happen, they have put themselves in a position through planning and endeavour to allow that lucky break to happen.
See also: Why Businesses don't Get Started