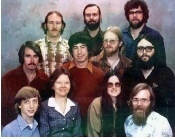 There's a common misconception of the typical entrepreneur being a charismatic individual business person, not needing or wanting a partner's help in driving forward his all conquering venture.
Think Richard Branson, Bill Gates, or the latest film idol, Mark Zuckerberg of Facebook fame.
Yes they were the front men and there's no doubt that they steered the ship, but each started their businesses with partners that had complimentary skills.
Branson always had a partner for each business he began. In the earliest years it was Jonny Gems (Student magazine), then Nik Powell (Student magazine and Virgin) adding Simon Draper (Virgin) for his music knowledge. These were share holding partners, not employees, although Branson certainly surrounded himself with a very capable workforce.
Bill Gates and Paul Allen started Microsoft together, while Zuckerberg's Facebook was founded with his original partner Eduardo Saverin (now the subject of a film – The Social Network).
There must be exceptions, anyone aware of one; I'd be interested to know? As far as I can find out, almost every successful company had a partner helping it to grow.
Why? Well, it is almost impossible for one person to have all the capabilities and characteristics needed to develop a business. One may have the technical skills, the other the sales or business knowledge.
Between them they start to handle the PR and soon it's clear that one is more comfortable in that environment and they agree that he will act as the front man.
Taking on the world yourself, with no one to bounce ideas off and to give mutual motivation is quite daunting. A strong team of employees will help fill out any skills or experience that the business needs and a mentor can be very helpful in acting as a sounding board, but there's nothing as good as having a partner with the same skin and commitment in the game as you.
Of course choosing a partner must be done with open eyes and it is absolutely important to get the right legal and partnership agreements in place. See my guide to healthy partnerships: Business Partnerships .
It was to provide a "dating site" for people to find business partners that we started Company Partners, so I guess I am a bit prejudiced in favour of not going it alone. But it's a hard old world by yourself.