Entrepreneur Quotes – Just do it!
Monday, December 20, 2010 16:46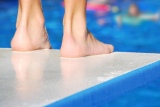 I was putting together a business plan workshop for some MBA students the other day and looked for a couple of quotes to illustrate points. There are, as you can imagine, quotes for everything, sometimes contradictory.
There is one area though that no one disagrees with and it happens to be a pet issue with me. That of "just do it". When I talk to potential entrepreneurs, far too many are waiting for "the right time" or someone to do it for them. Honestly, you just need to take a deep breath and then get on with it.
Anyway here are some thoughts from quite successful people – but less thinking, more doing…
"Talk to your customers – provide what they want, not what you want"
Jacqueline Gold – Anne Summers
"Make sure your business goals are measurable – if it's measurable it's manageable"
Steve Mills – MRI Network
"Be detailed, be persistent"
Sahar Hashemi – Coffee Republic
"Don't be afraid of failure, we worry about that too much"
Tim Smit – Eden Project
"The important thing is not being afraid to take a chance. Remember, the greatest failure is to not try" Debbie Fields – Mrs. Fields Cookies
"If you think about things too long and too hard you won't do them"
Simon Woodruffe – Yo! Sushi
"Never leave that to tomorrow that you can do today"
Benjamin Franklin
"The critical ingredient is getting off your butt and doing something"
Nolan Bushnell – Atari
"Twenty years from now you will be more disappointed by the things that you didn't do than by the ones you did do"
Mark Twain
"Your time is limited, so don't waste it living someone else's life"
Steve Jobs – Apple
"Whatever you are going to do, if you don't enjoy it, don't do it"
Philip Green – Arcadia
"Choose a job that you like and you'll never have to work a day in your life"
Confucius
You can follow any responses to this entry through the
RSS 2.0
feed.