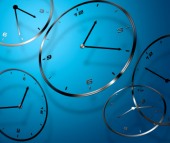 Angel Investors are not listed in the Yellow Pages and finding one can be a time consuming and expensive business, especially if using some of the pricey business angel intermediaries that are out there.
Actually the topic of where to find investors for a business opportunity deserves more attention and I'll cover that in a later posting. You won't see this covered in any of the other Business Angel networks blogs since they don't invite comparisons, but Company Partners is probably the most cost effective and we aim to be open.
But back to timing. You've got a great opportunity, written your business plan and are just starting to look for an investor. How long do you think finding one will take? A couple weeks? A couple months?
The shortest time that I've seen that one of our members take was 2 days. The longest time 18 months. That's in finding an Investor that was new to them (not family or friends).
There are so many variables at play; market area, quality of opportunity, how determined you are in searching, etc., that giving an average time can be misleading. However it is safe to say that it can take months rather than weeks and involve a lot of your own time.
There is a random variable also, Business Angels have a pattern of behaviour that means at any one time not all are available. They tend to dip in and out of the market, because once they have identified a couple possible opportunities they are out of action while investigating them. Coming back into the market if those opportunities hadn't panned out, or just for more investment.
Finding an investor is though only one of the time elements, since you will also want to take some time to get to know each other and do due-diligence. The advantage of a Business Angel over for instance venture capital, is that they will make quick decisions, but both you and the Business Angel should do all you can to ensure that you will work well together before proceeding.
Finally there will be legal and accounting work to be completed in terms of possible partnership agreements (I suggest you do write down the roles and expectations you have of each other), share allocation and sorting out when funds may be input into the company.
As you can see this is not an overnight activity. Think of it in terms of buying or selling a house, the searching and surveyor (due-diligence) work necessary, together with the contracts, probably means they take a similar time and just like finding a Business Angel will be affected by the market and quality of what is being offered.