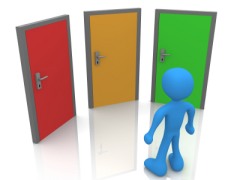 If you've got past the headline then you obviously have a hankering to be your own boss. The arguments for going into business are well rehearsed – you can make your own decisions, choose who you work with, enjoy the fruits of your success and so on – but, arguably, the paths into entrepreneurialism are less well documented.
Mention entrepreneurship and many people will think of starting their own enterprise and base their decision on whether to become an entrepreneur on the merits and risks associated with starting your own business.
But there are, of course, two other ways into business: buying an established business and buying a franchise. Each option has pros and cons and will suit different attributes, skills and circumstances.
To get you thinking about which option is right for you, here's a rough outline of the three choices, their attractions and drawbacks, potential rewards and risks. There's also a suggestion of the type of people they might suit – though by no means do we want to be prescriptive about this.
Starting a business
Starting a business from scratch is far from easy, but affords the entrepreneur the freedom to generate a business idea and build it as he or she sees fit. It's tough in the first couple of years, where the owner acquires and fits out premises, fulfils any regulatory requirements, begins to build a team and starts marketing the new brand to its market.
Advantages
Creative: generate the business idea yourself, develop the products and services and your marketing strategy
Freedom of choice: choose your premises and location, your own team and build the business as you see fit
Satisfying: any success is truly your success
Drawbacks
Risk of failure – especially compared to buying a business or franchise
Formative period is often stressful and time-consuming, as you establish a foothold in the market with few staff, few customers and little brand-name recognition.
Expect to work long hours in the first 1-2 years
Difficult to raise finance, especially in competitive markets or for novel ideas, particularly in current climate
Suits
An "ideas person" will enjoy generating new ideas that gain an edge in existing markets or break the mould and forge a new niche. You could argue that starting a business suits people who can afford to fail – the childless, or those wealthy or young enough to move on and try something else if it doesn't work out.
Buying a business
Businesses are sold for a variety of reasons, including retirement, illness, a desire to change sectors, a perception that the value has peaked. Although the business buyer is skipping the challenging start-up phase, the business buying process itself can be difficult, and must be conducted with care. Failure to research the market and conduct proper due diligence can result in paying over the odds or buying the wrong business.
Advantages
Providing you choose wisely, you could be profitable with a strong market presence from the moment you take over
Arguably also less demanding than starting a business for the same reason
Possibly easier to raise finance; banks keener to lend to businesses with track record of profitability as opposed to an idea that only exists in a business plan
Drawbacks
Can be expensive buying ready made profitability or floundering business requiring further investment
Buying process can be protracted and deals can collapse at last minute
Change of ownership poses problems – staff alienation from new regime, customers deserting you because they liked previous owner, can be difficult to steer business in fresh direction
Suits
If you're cash-rich the dearth of credit means there are plenty of bargains on the market. If you're excited by the challenge of turning round a failing business, and like to be in full control but don't fancy a stressful start-up period – perhaps you've been there, done that – then buying an established business will suit you.
Buying a franchise
Buying a franchise is a more formulaic route into business ownership, where you follow tried-and-tested systems and the risk of failure is generally low. In return for an initial franchise fee, and often ongoing monthly management fees or percentage of your revenue/profit, you operate under the name of an established brand, selling its goods or services, with support and training from the franchisor.
Advantages
Providing you buy into a successful brand – McDonald's or WSI being prime examples – the risk of failure is negligible, and failure at the application stage at least entails no financial loss.
Following a proven formula, it's arguably less challenging than the alternatives
Also buying brand recognition and training and support – meaning you're in business for yourself, but not by yourself
Drawbacks
Following a rigid formula you rarely have leeway to tinker with product, prices, decor or any other aspect of the business
Generally pay monthly management fee or proportion of revenue/profits to franchisor
Must pass rigorous application process, particularly for the biggest, most successful brands like Subway
Suits
Someone who wants to be their own boss but doesn't mind following a rigid formula, and who wishes to keep risk to a minimum. With a number of home-based, part-time franchise opportunities available for a modest investment, franchises are also popular with parents of young children.
This article was contributed by BusinessesForSale.com, the directory of business opportunities from Dynamis, the online media group also behind FranchiseSales.com and PropertySales.com