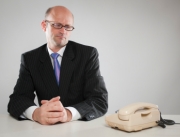 Hands up those who have more sales than they can handle? It does happen, but for most small businesses it is a constant battle to get customers.
You've got a good product or service; in fact you are probably very proud of the quality and cost effectiveness of your offering. But sales don't seem to be coming in very fast. I hear this time and time again.
Occasionally when I look at what the business is selling, there are problems with the product, or poor customer service that over time results in less recommendations and repeat business. But most often it's because no one knows about the company, or they are just being out sold by the competition.
So then I ask "let's look at your sales & marketing plan". There is usually either a silence, or protestations that the owner hasn't the time to do such a thing. In fact most small businesses don't have a plan, but instead place an occasional ad and go to the odd exhibition when they think of it.
Yet it needn't take long to think through what you are going to do during the year to get better known and to achieve more sales.
A short session brainstorming ideas with colleagues / partners can quickly put the bones of a plan together.
Ideally it would initially address your basic identity (brand), what you want to be known for and what is unique about you (called the USP – unique selling proposition in the theory books). You may instinctively know that, but try putting it on paper and think it through.
Then, how are customers going to know about you? PR (public relations) isn't just for the big boys, but it can be expensive. A typical minimum retainer for a PR firm to get you some visibility is around £1k a month and can be much more.
You have to choose wisely also, making sure that the PR company understands your market. I've generally been disappointed when I've seen the quality of PR that had done for companies.
As an alternative you can do your own free PR. It can be time consuming and that is a reason for using a carefully selected agency, but if you can't afford an agency, don't ignore PR, you can get some publicity very cheaply yourself. For our Company Partners members we've got a good resource describing how to do so "How to get free PR"
So what else should you be doing to get sales? I'll look at that in Part 2.
Oh yes, my bit of sales…. Would a hands-on workshop, plus free business plan software and marketing tips help? Have a look at our next business plan workshop.