British Midland's Voyager Magazine
BBC2's Working Lunch Programme
DTI e-commerce Awards Nomination
Good Housekeeping Magazine
The Times
"The only service that brings directly together, people looking for like-minded partners, Business Angels or Mentors." Rob Pittam, BBC - Working Lunch
Company Partners Appears in British Midland's Voyager Magazine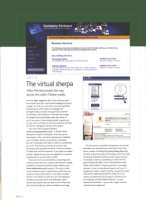 Company Partners recently appeared as one of the websites to watch in British Midland's in-flight magazine, "Voyager".
Miles Mendoza described Company Partners as:
"a bit like online dating, but instead of looking for true love, you're searching for other would-be entrepreneurs."
Miles also mentioned how Company Partners helps people to find ideas and funding.
"There is a vast range of good opportunities on the site and I have contacted 3 for follow-up meetings"

Gerry Peterson
Investor - Scotland
"Found a sales partner to join me. We will finally be able to get our business up to the next level."

Ian Pemrose
Entrepreneur - Southeast UK
Company Partners on BBC2's Working Lunch
BBC 2's award winning daily business, personal finance and consumer news programme.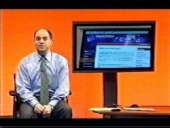 "Business news you can use" is what Working Lunch is all about, presented with a sense of humour and sharp insight. The Working Lunch team looks at what is really happening in the world of business, the economy and on the high street. And, most importantly, how it affects you.
Some of the presenters were seeing the site for the first time and spotted that Company Partners was doing things differently than any other networking or business angel site:
Firstly, there were no additional fees, other than a small monthly membership (others were charging hundreds, often in a hidden manner) and
Members could contact Investors themselves, through the sites secure system and not have to just sit and wait
How Company Partners helps businesses.
The programme's 'man on the road' Rob Pittam, looked at the way that Company Partners is helping new businesses to get started and existing businesses to grow larger
Rob talked to Lawrence Gilbert, one of Company Partner's founders about how the main site worked.
"The original idea was that it would be much like a 'dating agency' for people who want to start or grow a business, to find others wanting to start a business. Perhaps with complementary skills to their own"
Also existing businesses were joining in order to find resources. People with skills and experience that the business needed in order to grow, and funding to start-up or expand. So we added consultancy and access to business angels. Actually quite a few people with funds to invest in private equity use this site to identify good potential investment opportunities."
Although perhaps not surprising, we found that those who were proactive, contacted others, set out a business plan etc., were much more successful than those that just sat back and dreamed. Ideas are fine but it was the action that counted."
"Company Partners was very helpful with furthering my project and I can definitely recommend using it."

Peter Lewis
Entrepreneur - South UK
"It was simple to place my business Profile online. I contacted several potential Investors and ended up securing an investor who also was able to contribute his experience to make the business even better."

Simon Barnes
Entrepreneur - Midlands UK
Company Partners Nominated in DTI e-commerce Awards

During the running of the DTI's e-Commerce awards, Company Partners reached the last 8 from more than 300 companies selected as e-businesses of the year. Set up by the DTI and InterForum, the E-Commerce Awards were the only Government backed technology awards and aimed to recognise and reward organisations that have demonstrated tangible business benefits through their use of Internet and information & communication technologies.
In addition to the Regional awards, Company Partner also found themselves nominated for a National award as one of the most trusted secure on-line transaction sites in the UK.
Company Partners recommended in Good Housekeeping Magazine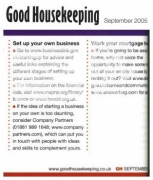 We don't often get mentioned in Life Magazines, however for an article entitled "It's never too late to have the life you always wanted", Company Partners was listed as one of the resources to Set Up Your Own Business.
You can register now with Company Partners. It's free and only takes a minute
The Times interview on running a business with friends and family.

The Times business writer Carol Lewis interviewed Lawrence about Company Partners, how he manages to successfully run the business with his wife (Hazel) and the work he does with his brother in the consultancy company, Holistic Services, as part of an article on "Keeping business in the family".
The full article was also published on the TimesOnline.
Tip:
You can browse the site
You can get a feel for how the the site works for free, try out the search for partners, business angels or investment opportunities. Just register here and get started.
"we have found an investor on your site , and are signing contracts this week , thanks for eveything."
Mario - Golf industry
"I have to date received 15 inquiries with 5 becoming more interested, I am hopeful of finding the right investor who looks beyond how quick can I get my money back with limited risk."
Eric - Sustainable Energy Technologies
"I would highly recommend Companypartners. The website is easy to use, the people who run it are very helpful, and the cost of membership very reasonable. As a result of using Companypartners, I have now found a partner with whom to develop my business. I doubt very much if I could done this using my own resources, certainly not without spending much more time and money."
Paul - Lawyer looking for a business partner
"We are a small company with a brilliant patented product. Finding an investor/partner was proving impossible. Your site provided the ideal answer, I can't recommend it highly enough.
Jane - Pet accessories
"Thanks for your excellent customer service and quick response! Getting good interest now thanks to you."
Andre - Technology consulting
"I have got a business angel from you, who has said they will join me, many thanks for your help."
Mark - Property investment
"I'm very pleased to say I have now found a business partner via your site. Thank you so much! I will be back in the future should I need any further partnerships."
Ruth - Internet Entrepreneur
"An excellent value for money service which I would not hesitate to recommend to other businesses."
Laurie - Dental Technologies