Business Resource Software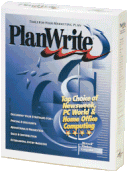 Price: $129.95 Standard Edition or $229.95 Expert Edition
Summary
Plan Write is a top of the range business-planning tool that produces professional and impressive documents. The Expert Edition that we reviewed has a built-in expert analysis system, which examines all your assumptions, asks perceptive questions and wrings the last ounce of information out of you. This is a feature rich and thoughtful planning tool, which because of the detail required does take time to complete, but will result in a comprehensive and unique plan.
Detail
The package came with a clear and comprehensive user manual, along with a CD installation that was quick & easy. The first thing to note is that this is a USA version only. As far as we know there isn't any plans to have one tailored for the UK.
Just as more and more applications are doing, it does tend to assume you have Internet access, in order to go into the planning tips and for additional resources. However the quality and quantity of the information available using their Research Centre in this way is excellent. There is expert analysis help, well written articles on business planning and more sample plans, along with useful tips for using the software. Navigation is clear and straight forward, but there is a lot in this Expert Edition and the number of tabs does tend to reflect that. We found it very easy to do some work, go out of the application and later come back to it, with one click of the "Current Plan" tab on the opening page.
The plan itself is extremely flexible, with the ability to include or exclude entire sections by simply ticking a check box. Useful, because Plan Write does cover a lot of ground in some detail. It is unlikely that everything in the entire plan would be filled in on every occasion, on my version it amounted to over 80 pages (at least), so you choose those sections applicable for your business.
Shortcuts to the main parts of the application, such as resources, narration, financials and charts sit vertically on the left, leaving the upper row of the window for tabs to the major elements of each section.
The text input is well thought out, with the upper window capable of showing either the explanation for that section, or you can choose to show a suitable example that the expert system has selected for you. You can cut & paste directly from the example - there is even a "copy" button that does it for you with one click.
In Plan Write's Expert Edition the opening Interview section took quite some while and it is best to treat this hugely capable application as a business and market analysis tool, rather than a quick way of throwing together a business plan.
It is worth taking the time, since when complete there is a huge amount of analysis available with both easy to follow text and many graphs / charts. The plan generates a very comprehensive SWOT analysis, especially suited to those wanting to understand and explore the full potential of their business. Once completed there will not be a question that any investor or partner would find unanswered. This is a feature rich and thoughtful planning tool, which because of the detail required does take time to complete, but will result in a comprehensive plan.
In doing the financials you can chose to have it tailored for use in acquiring investment capital. This is then reflected in the spreadsheets and in the subsequent questions asked of you in order to develop the appropriate funding requirements part of the plan.
The finances, including taxes, are set up so that figures can be changed, but since it is based on the USA system it doesn't provide advice or help in determining potential tax liabilities for the UK, as UK specific plans would. Financials are easy to fill in but again quite detailed.
Finally at the end there is a thorough audit of the finished plan to ensure consistency, spelling and an evaluation of the long term success potential of the plan as you have described it. A written summary regarding the market potential of the plan, a set of observations that point out perceived strengths and weaknesses and a variety of charts that will graphically show how the plan appears to address important marketing and sales concepts.
Save choices include Microsoft Word, web HTML and usefully, PDF files, which are more easily emailed to collaborators or prospective Investors.
Pros
Easy setup and installation, with clear user manual.
Explanations at each step of creating the plan.
Expert system for business & market analysis.
Expert system helps tailor the plan to your business.
Allows you to test your business plan for viability.
Professional and comprehensive.
Cons
Available from: Business Resource Software