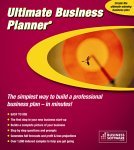 The Business Software Centre
Price: £79.95 or from Amazon £59.99
Summary
A comprehensive business planning application that has been tailored for the UK market, with helpful questions and explanations on UK types of business and tax rates. Quick and simple to setup, with a clear layout, this software package would suit those looking for a no fuss, inexpensive business planning tool.
Detail
The packaging is fairly minimal, with CD only - no manual and a basic card of start-up instructions, but it installed easily enough and we were soon up and running. You have to register, which as a security check is fine. However I was a bit miffed about automatically being "opted in" for email news and having to "unsubscribe" by clicking the bottom of emails when they arrive, which I never like doing since it is a well known spammers trick to find out if your email address exists.
Once started, the programme begins smoothly with an interview section and you can import financials from "QuickBooks". The required company information took very little time, with only the occasional use of dollars and the USA examples giving away it's Stateside parentage.
The programme adopts the popular 3 window approach, with contents in a vertical pane to the left, allowing easy navigation, explanations/examples in the top pane and the bottom pane is used as your text editing window. These all worked well and were very clear.
Whilst you can't cut & paste directly from the example text. There is a resources section that is well organised just a click away. Once on the resources page, you chose the section you are working on and then the sub-section for your type of business. A very good idea, but the whole process does get a bit clumsy at times. Having said that, there are a 1000 example sections and 25 complete business plans available.
The printing and formatting of the plan is quick and simple, with charts, tables, text and graphics all formatted, an index created and the pages automatically numbered.
During the building of the plan it's not necessary of course to input everything in one go, do as much as you want, save and close. When you start up again it loads your current plan & goes straight to the last section you did. A nice touch.
Pros
Easy setup and installation, with imports from QuckBooks.
Explanations at each step of creating the plan.
Straight forward and uncomplicated input of information.
Financial section based on UK requirements.
Cons
All of the sample plans are based on USA businesses.
Cutting & pasting of examples a bit clumsy.
Available from: