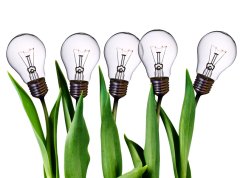 I'm always saying that ideas are 10 a penny, it's getting off your backside and doing it (and doing it well) that counts.
But are there really that many new business ideas about? I decided to have a look. Not all of them would in fact prove commercial and some when you examine them, are actually old ideas brought up-to-date, but there are thousands of business ideas laying around waiting for someone to pick them up.
 A few words of advice when looking at business ideas:
Never pay anyone for a get rich quick scheme – If it's too good to be true….
Watch out for "work from home" businesses that will cost up front for samples or products but never make you enough money to live on
A lot of ideas that are talked about have never been tested and might not work
However, you may get inspiration and your own business idea from looking through the lists. Once you've got the idea you must then of course think through the market and how it will in practice work. See why ideas don't work or get investment.
Finally, do it. Yes, actually do it.
 5 Places to get Business Ideas:
You can also generate your own business ideas. I like to start from first identifying a market need. This is a good way of forming a business that is likely to work. Having said that, who would ever think there was a need for Twitter, so there are exceptions!