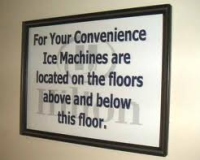 After writing the title of this piece I thought what more can I say? That's it isn't it? Provide a better service than your competitors and you will win business.
But maybe it's worth thinking about this a bit deeper. No one actually sets out to deliberately provide a bad service and does it really matter that much?
Increasingly the difference between me choosing one supplier or another is their service. In today's marketplace most prices are competitive. I can also easily compare prices on-line and I'm getting pretty good at negotiating discounts as well.
But you have to live with the product you buy a long time and if it's a service you are buying, such as a telephone line, broadband ISP, or consultancy; the ease and quality of service can make your life pleasurable or absolute hell.
Two companies I enjoy dealing with are Amazon and John Lewis. I've never had any trouble returning goods with these companies and they have speedy delivery, so I continue to go back to them – even if sometimes their price is higher.
On the other hand who hasn't been kept waiting ages on a telephone line while trying to get technical support from your Internet Service Provider?
Or had to deal with a call centre where you get passed from one automated menu to another, before talking to someone who clearly didn't want to be there talking to you.
Large businesses can fall into this trap, because someone has done an efficiency study and calculated that the odd drop-out of customer is compensated by the lower cost of delivering service. Many large faceless organisations, such as Utility companies, and big corporations, just see such service as normal. The stock answer is "there are always complaining customers, but when you think that we deal with millions of people a year the number of complaints are very small". Does that reassure you?
Smaller businesses may just have lost sight of the importance of service. Running around fire-fighting issues, having to do everything yourself, it can be hard to provide the level of service that you would like to. Whist understandable, it's a road to disaster. Reputation is hard won and easily lost.
So what should you do?
Build ease of doing business, friendliness and going beyond the call of duty into your sales strategy and branding.
Design your systems for ease of customer interaction; IT systems, telephone handling, paperwork, bills, quotes – anything the customer has to deal with.
Own the problem. If a customer contacts someone at your company with an issue, that person should own the problem – even if the customer has rung the wrong department.
Make speedy delivery, speedy response, speedy interaction with your company an important factor in how your company operates. Customers are all busy people, the issue that they contacted you about is important to them and so they are impressed when you reply to an email or query within an hour, but not after days of waiting.
Forget the clichés "the customer is king", "the customer is always right", these are meaningless and are a fob to the whole concept, your staff will not respond to such trite. Instead make sure that your staff knows that how the customer perceives you is key to their success and the company's business.
Get an attitude in place that one of the things which your company and the staff are proud of is the way they are viewed by customers, suppliers and others as being friendly and efficient.
Give staff the respect and trust to make judgement calls on what is needed to "do the right thing" for the customer, rather than "more than my jobs worth" to do anything out of the ordinary.
Once you have the right procedures in place and have built excellence of service into the core of the business, capitalise on it by using good testimonials in your literature and web site.
One of the reasons I like using Amazon is that apart from their service, I can read reviews of products and companies before buying. Checking reviews on-line is now an important shopping behaviour, so encourage your customers to leave good reviews anywhere they can. There are many opportunities to do so on-line, look for these and build your reputation.
I've worked in many corporations that have put measurements in place for customer satisfaction and even made that as part of the pay mechanism, but such measurements can always be massaged. None have worked as well as in companies where the ethos and self-image is all about quality.
Start with your own and your staffs perception of your brand as being one of excellence, ensure the systems allow you to deliver that quality and then customers will go out of their way to choose you rather than your competitors.